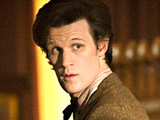 Matt Smith has revealed that he hopes the writers of Doctor Who find a way to keep the show on television forever. Recently, Matt Smith spoke to The Big Issue in Scotland about his line in the recent episode of The Sarah Jane Adventures, Death of the Doctor. He told them: "That's a Russell question. You'd have to ask him because he's better equipped to deal with that. I have no idea. I merely concentrate on number 11." He continued: "The rest, once they get to 13, that's their problem to worry about. I certainly want Doctor Who to go on forever, It's just wonderful. The format of it allows the storytelling to be limitless and totally creative from one week to the rest and without restraint, so why not? It's lasted this long. Why shouldn't it go on?"
Matt Smith also said that it would be different being up in Cardiff without his co-star Karen Gillan around. He added: "She will go on to do great things" and when asked about Amy's future he commented: "If I told you, I would have to kill you".

You can read the full article by clicking here. What are your thoughts? Do you think Doctor Who will go on forever? Share you thoughts below!